Skip Navigation
Website Accessibility
Who should take this course?
Exploration. Excitement. Experiences. That's what the PADI Advanced Open Water Diver course is all about. You don't have to be "advanced" to take it – it's designed to
advance
your diving, so you can start right after earning your PADI Open Water Diver certification. The course helps build confidence and expand your scuba skills through different Adventure Dives. You try out different specialties while gaining experience under the supervision of your PADI Instructor. You log dives and develop capabilities as you find new ways to have fun scuba diving.
PADI (Junior) Open Water Divers who are at least 12 years old are ready to enroll in and Advanced Open Water Diver course. Young divers may only participate in certain Adventures Dives--check with our staff for limitations on dives.
If you're already an Adventure Diver, you only need to complete two more Adventure Dives to earn the Advanced Open Water Diver certification.
What will you learn?
You'll plan your learning path with your instructor by choosing from a long list of Adventure Dives. There are two required dives - Deep and Underwater Navigation - and you choose the other three, for a total of five dives.

The other knowledge and skills you build will vary with your interest and the adventures you have - buoyancy control, search and recovery, wreck exploration, night, photography, underwater naturalist, fish identification, boat diving and many more!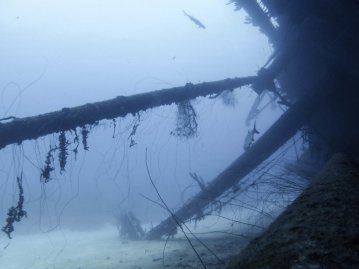 What gear will you use?
Beyond using the basic scuba equipment (mask, snorkel, fins, booties, wetsuit, BCD, regulator, computer, tanks and weights), you'll need a compass, dive tool, two signaling devices (may include, but not limited to a safety sausage and whistle), dive lights if choosing the Night Adventure Dive and camera if choosing the Digital Underwater Photography Adventure Dive.
What will your schedule look like?
Day 1: Classroom Session - approximately 3 hours (4pm to 7pm) to review knowledge development, take a tour of our retail showroom, and purchase or rent any equipment you may need.

Day 2: Water Day One - approximately 8 hours (9am to 5pm) at our training facility to complete Navigation, Peak Performance Buoyancy, and Search and Recovery Adventure Dives.

Day 3: Water Day Two - approximately 6 hours (time depends on boat schedule and adventure dives chosen) from the boat to complete Deep and your choice of Night, Wreck, Boat, Fish Identification OR Digital Underwater Photography Adventure Dives
How can you start?
You can start now by purchasing our PADI Advanced Open Water Diver course through our online store or in person. Once purchased, we can schedule your classroom and in-water training sessions.
Our PADI AOW Course is

$463.05

and includes the PADI Advanced Open Water Diver Crew Pack with safety sausage and whistle, PADI Professional Instructor, classroom session, 5 in-water training dives, fees for the training facility and boat trips, and PADI certification card
​
Rental Equipment:
Full Gear Rental (BCD, regulator, tanks, and weights)

: $15 per day

Wetsuit:

$10 per day
Required Forms
Please review the
PADI Medical Form
. Any 'Yes' answers require a doctor's approval before starting in-water training. Please also fill out the
Continuing Education Form
and email it to us at info@grovescuba.com
Return and Cancellation Policy
Please familiarize yourself with our policies below.
Polices